Children's Fitness
Zumba Kids

Gymnastics

Fit Kidz & Gymnastics in Primary Schools & Crèches

Seasonal Camps (Halloween, Easter, Summer)

Party Entertainment (Birthday parties, Holy Communions, Confirmation Etc)

ZUMBA KIDS:

Zumba Kids feature kid friendly dance routines based on original Zumba choreography. Eithne breaks down the steps, add in games and cultural exploration at the end of the class. Two different age groups

ZUMBA KIDS JR. (Ages 4-6 years)

ZUMBA KIDS (Ages 7-11 years)
Contact Me Today
Gymnastics
Gymnastics is one of the worlds most inclusive sports and all types of people, young and old can take part. It promotes an active, physical lifestyle and developes key motor skills. Physical strength, flexibility, agility, coordination and balance are the sports core components, however participation in Gymnastics also develops Confidence, Creativity, Leadership & a Healthy body and mind.

Eithne Morrissey owner of Sonic Fitness Gymnastics Club has been running classes with the last 5 years in Newcastle, Ardfinnan & LADC Studios in Cashel. Sonic Fitness Gymnastics Club is a member of the National Govering Body 'Gymnastics Ireland ' & has carried out all their trainings with Gymnastics Ireland. Coaches are Eithne, Emma & Isabella.

All coaches are garda vetted and they have completed the Child protection training.


Contact Me Today
Sonic Fitness Gymnastics Club is a Recreational Club. Our Classes cater for all levels and are grouped by their age. We believe in challenging and rewarding achievement in all our classes. Highlights during the year include:
Halloween Party

Christmas Displays

Easter Competition

End of the year Displays
Gymnastics In Schools
Sonic Fitness Gymnastics Club offer Schools
'In -School Gymnastic Programmes' which cover the schools obligation to provide Gymnastics as part of their P.E. curriculum. At Sonic Fitness Gymnastics club we transport our very own specialised Gymnastics Equipment to carry out the programmes. Coaches are Garda Vetted & have completed Child Protection Training and have been trained specifically to coach Gymnastics in Schools.

To enquire about having a Gymnastics Programme in your school please get in touch with Eithne info@sonicfitness.ie

Gym Tots
Your Gym Tot is now ready to Participate in the class without the help from a parent/guardian. They have FUN challenging themselves as they develop coordination, strength and flexibility- helping them reach key developmental milestones. This age group loves an obstacle course and equipment- we do alot of this but we also focus on Gymnastics key skills too.

Ages 3-5 years & its a 45 minute - 1 hour class
Locations/Times
Wednesday - 2.45pm Tipperary Town
Thursday 2.15- LADC Studios Cashel
Saturday 10am- Newcastle
Monday 5.50pm Newcastle
Recreational Gymnastics
Recreational Gymnastics is truly a sport for all ages and abilities and has so many key benefits for your child's development. Strength, coordination, cognitive function, social development, building their confidence and meeting new friends. In Recreational Gymnastics we focus on floor elements -

Tumbles, Cartwheels, Handstands, Splits, Bridges & lots more floor skills. We also use apparatus Including the Beam, Bars & Vault.

Classes are grouped by age 5-7 years and 8 years and up. 45 minute- 1 hour classes.
Contact Me Today
Class Schedule
5-7 year age group
Tuesdays - 5.50 pm - Newcastle
Wednesday - 3.30pm Tipperary Town
Thursdays - 3.20pm -LADC Studios Cashel
Saturdays - 11am & another later class at 1pm
8 years and up group
Tuesdays- 6.50pm - Newcastle
Wednesday - 4.30pm Tipperary Town
Thursdays - 4.15pm - LADC Studios Cashel
Saturdays- 12 Noon - Newcastle
Gymnastics Display Team
Our dispaly team trains up to 3 times a week doing various Gymnastics classes a week and the gymnasts would also take Part in the display class once or twice a week.

This class Participates in events like St Patricks day Parade and other yearly events.

Contact Me Today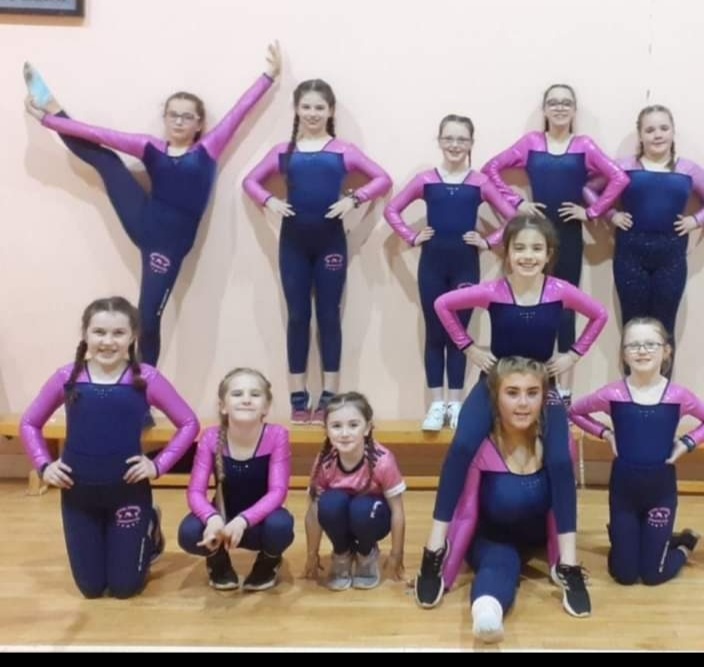 Fit Kidz
Sonic Fitness travels around to various different Primary Schools and Crèches promoting their FIT KIDZ Programme. FIT KIDZ programme is a 30-40 min Fitness Activity for the children and activities we do in each session are age appropriate.

Activities Include:
Warm up & Stretches, Musical games
Fitness, balance & coordination drills
Some Equipment that we use would be hula hoops, parachute, all shaped balls balls, egg and spoon, bean bags, basketballs, giant connect 4 & lots more FUN Equipment and games each session.

Seasonal Camps
Sonic Fitness Runs Camps throughout the year- Halloween, Easter & Summer & travels around to various locations with this fantastic service. Locations include:

Ardfinnan, Newcastle
Ballyporeen, Ballymacarbry
Cahir, Clonmel & Cashel

Age group for the Camps is from ages 4 years and up to 12 years and time is roughly 9am-2pm Monday- Friday.
Activities Include:
Giant parachute, Soccer, Basketball, Dodgeball, Hockey, Zumba Kids, Giant Connect 4, Circuits, Obstacle Course, Art, Baking, Facepaints, Party & DVD on Friday & lots more FUN.

Party Entertainment
Sonic Fitness provides Party Entertainment for all occasions including: Birthdays, Holy Communions/Confirmation or any special event.
I travel to your own home or local hall and I entertain the children through Fitness and activities for 1 hour up to 2.5 hours.

Parents can relax and take a break out and leave me take over for the duration of the party occasion. I bring all my own sports equipment and music.

Events Include:
Children's Birthdays

Holy Communions & Confirmations

Any other family events



Fitness for Adults & Children in Tipperary